Empfehlungen und
eigene Ausstellungen
ART VIENNA: 27.–29. März 2020
ABGESAGT

Ausstellung in Völkermarkt: Zwei "Kunsttatorte"
Zwei Ausstellungsorte, ein Titel. Ab Freitag, 5. Juni 2020, öffnen zwei Ausstellungsräume unter dem Titel "Städte & Landschaften in Unterkärnten – Völkermarkt Einst & Jetzt" ihre Türen. Das Projekt wurde gemeinsam mit der Stadtgemeinde Völkermarkt, der Galerie Magnet, dem Wirtschaftsverein Zukunft Völkermarkt und weiteren Partnern ins Leben gerufen und zeigt bis Ende September zahlreiche eindrucksvolle Bilder aus der Region von damals und heute.
Ausstellungsort 1:
Galerie Magnet
Hauptplatz 6,
9100 Völkermarkt

Mo – Fr von 8.30 – 13 Uhr,
14 bis 18 Uhr und
Sa von 9 – 12 Uhr
Ausstellungsort 2:
Hauptplatz 27,
9100 Völkermarkt

(neben dem "lokal – Das Beste aus der Region")
täglich von 9 – 21 Uhr
ART VIENNA: 27.–29. März 2020
Angesichts der jüngsten Entwicklungen rund um Coronavirus COVID-19 hat die Österreichische Bundesregierung (Anm.: Status 10. März 2020) ein Maßnahmenpaket vorgestellt, das auch das Verbot von Veranstaltungen beinhaltet. So sind alle Indoor-Veranstaltungen mit über 100 TeilnehmerInnen bis Anfang April verboten, weshalb die ART VIENNA von 27. – 29. März nicht abgehalten werden kann.
Die Gesundheit und Sicherheit der BesucherInnen steht  für uns an erster Stelle.

Erfreulicherweise ist es jedoch bereits gelungen, einen Ersatztermin vom 11. bis 13. September 2020 in der Wiener Hofburg zu organisieren. Dieser ist selbstverständlich vorbehaltlich weiterer Maßnahmen der Bundesregierung bzw. der zuständigen Behörden.
Darum freut es uns, Ihnen unseren Katalog anlässlich der Messe, online präsentieren zu können.
Reservierungen und Anfragen bitte unter: magnet@galeriemagnet.com,  +43 (0) 664 100 51 10, oder +43 (0) 650 71 72 015, oder Festnetz: +43 (0) 4232 24 44
Auch für einen Besichtigungstermin bitten wir um Anmeldung.
Salzburg International ArtFair
ArtFair 2019
Neues Kultur-Event als exklusiver Treffpunkt für Sammler, Kunst- und Kulturfreunde
Zur ArtFair-Website
Salzburg bekommt ein neues und spektakuläres Kultur-Event.
Vom 10. bis zum 18. August 2019 findet erstmals die Salzburg International ArtFair statt, die den Kunstfreunden aus aller Welt ein eindrucksvolles Programm bietet.
Das Spektrum der Kunstwerke reicht von der Österreichischen Malerei des 19. und 20. Jahrhunderts bis zur Zeitgenössischen Kunst. Die Malerei des Biedermeier ist genauso vertreten wie die Klassische Moderne. Dazu gibt's Skulpturen, Glas, Fotografien und wertvolle Exponate aus der stets besonders gefragten Epoche Wien um 1900.
Familie Starmann, Galerist Wilfried Magnet, Siegbert Metelko mit Music Werken auf der ART Fair 2019
Kiki Kogelnig Bilder von der Galerie Magnet auf der ArtFair 2019
Zoran Music - Malerei | Joannis Avramidis - Skulptur
22. Mai – 13. September 2019
W&K Palais Schönborn-Batthyány
Renngasse 4 | 1010 Vienna
Öffnungszeiten
Di-Fr 11-17 Uhr, Do 11-20 Uhr, Sa 11-14 Uhr
Ein Jahr nach der Einzelschau im Leopold Museum präsentieren nun W&K und Galerie Magnet über 90 Arbeiten des slowenischen Malers – eine Verkaufsausstellung mit musealem Anspruch.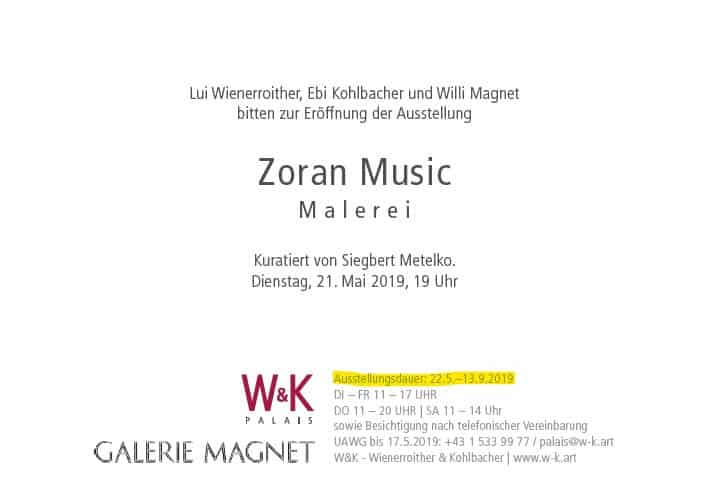 Ab 21. Mai werden Gemälde und Papierarbeiten von Zoran Music (1909 – 2005) in einer von Siegbert Metelko kuratierten Schau präsentiert. Die Verkaufsausstellung mit musealem Anspruch zeigt an den zwei Wiener Standorten der Galerie W&K – Wienerroither & Kohlbacher Werke von den 1940er Jahren bis hin zu seinem Spätwerk. In den barocken Räumlichkeiten des Palais Schönborn-Batthyány werden Gemälde des Ausnahmekünstlers inszeniert, die Papierarbeiten in der W&K-Galerie. Insgesamt wurden durch die Kooperation mit der Galerie Magnet und der Informationsplattform Zoran Music-COMARTE über 90 Werke zusammengetragen. Die Ausstellung ist bis 13. September 2019 öffentlich und kostenlos zugänglich.
Gezeigt werden neben Landschaftsdarstellungen Dalmatiens, der Toskana und Umbriens auch Porträts und Genreszenen von Bauern und Fischern, sowie Stadtbilder aus Paris und Venedig. Ebenfalls zu sehen sind Gemälde aus seiner Cavallini-Serie, in welcher die Pferdedarstellungen zu einem Symbol der Freiheit und Menschlichkeit wurden, sowie Arbeiten seiner in den 1970er Jahren entstandenen Serie Wir sind nicht die Letzten.
Publikation: Zoran Music – Faszination der Malerei
Die Galerie MAGNET wird anlässlich dieser Ausstellung eine umfangreiche Buchdokumentation über Zoran Music mit Texten von Peter Handke, Sammler und Music-Experte, Siegbert Metelko sowie den Kunstkuratoren Ivan Ristic und Natasa Ivanovic präsentieren.
Sprachen: Deutsch, Englisch, Italienisch, und Slowenisch | Preis: € 28,-
Galerie Magnet und Sheperd W & K Galleries sind hocherfreut Gemälde und Papierarbeiten des slowenischen Künstlers Zoran Music (1909 – 2005) präsentieren zu können.
30 Werke des Künstlers werden gezeigt, 14 davon sind aus unseren Galeriebeständen.
Der Maler stammt aus Görz damals ein Teil von Österreich-Ungarn, heute Slowenien.
Von der Gestapo in Venedig verhaftet, kam er vom November 44 bis Mai 45 als Gefangener in das KZ Dachau und wurde am 29. April 1945 mit anderen Überlebenden von den Amerikanern befreit.
Er hat in dieser Zeit authentisch vor Ort gezeichnet, wovon etwa 40 Arbeiten erhalten blieben.
Dieser Umstand verleiht ihn, auch über Europa hinaus, vor allem in den USA einen ganz besonderen Stellenwert.
In den letzten Jahren haben wir uns mehr und mehr mit seinem Werk beschäftigt und konnten auch bei der Vorbereitung einer großen Ausstellung (12. April bis 6. August 2018) im Leopoldmuseum mit behilflich sein.
Diese kleinere Ausstellung in NY ist eine Folge davon.  Arbeiten von Zoran Mušič befinden sich auch in amerikanischen Sammlungen und Museen.
Gallery Magnet and Shepherd W & K Galleries are pleased to present paintings and works on paper by the Slovenian artist Zoran Music (1909 – 2005).
30 Paintings of the Artist are shown, fourteen of these paintings belong to our Gallery.
The Artist comes from Görz. Back then part of Austria-Hungary, today known as Slovenia.
Arrested by the Gestapo in Venice, he got imprisoned from November 1944 till May 1945 in the Concentration Camp Dachau and freed, together with other survivors, on April 29, 1945 by the American Army.
During this time in prison, he captured his surroundings on paper.  40 of these drawings have been preserved until today. These life circumstances, give him beyond Europe, but especially in the United States of America a special place of value.
The last years we have engaged ourselves with his work and were also involved in the organisation of an exhibition in the "Leopold museum" in Vienna, which took place from April 12 till August 6, 2018.
This much smaller exhibition in New York is a continuation of these efforts. Works of Zoran Mušič can also be found in American Collections and Museums.
13.04.2018 bis 06.08.2018
Leopold Museum Wien
Zoran Mušič (1909–2005) zählte bereits zu den arrivierten slowenischen Malern, als er Ende 1944 für mehrere Monate ins Konzentrationslager Dachau verschleppt wurde. Zeichnungen, die dort entstanden, wurden zu erschütternden Zeitdokumenten.