Recommendations and
own exhibitions

Exhibition in Völkermarkt: Two "Art Tatorte"
Two exhibition venues, one title. From Friday, 5 June 2020, two exhibition rooms will open their doors under the title "Cities & Landscapes in Lower Carinthia – Völkermarkt Einst & Jetzt". The project was launched together with the municipality völkermarkt, Galerie Magnet, the business association Zukunft Völkermarkt and other partners and shows numerous impressive pictures from the region from then and now until the end of September.
Venue 1:
Gallery Magnet
Main Square 6,
9100 International Market
Mon – Fri from 8.30 a.m. to 1 p.m.,
2 to 6 p.m. and
Sat from 9 a.m. to 12 p.m.
Venue 2:
Main Square 27,
9100 International Market
(next to the "local – the best of the region")
daily from 9 a.m. to 9 p.m.
ART VIENNA: 27-29 March 2020
In view of the latest developments around Coronavirus COVID-19, the Austrian Federal Government (note: status: 10 March 2020) has presented a package of measures that also includes the ban on events. All indoor events with more than 100 participants are prohibited until the beginning of April, which is why the ART VIENNA cannot be held from 27 to 29 March.
The health and safety of visitors is our top priority.
Fortunately, however, it has already been possible to organise a replacement date from 11 to 13 September 2020 in Vienna's Hofburg. This is of course subject to further measures by the Federal Government or the competent authorities.
That is why we are pleased to present
our catalogue
online on the occasion of the trade fair.
Reservations and enquiries should be made at: magnet@galeriemagnet.com, +43 (0) 664 100 51 10, or +43 (0) 650 71 72 015, or landline: +43 (0) 4232 24 44
We also ask you to register for a viewing appointment.
Salzburg gets a new and spectacular cultural event.
From 10 to 18 August 2019, the
Salzburg International ArtFair
will take place for the first time, offering an impressive programme to art lovers from all over the world.
The spectrum of works of art ranges from the Austrian painting of the 19th and 20th century to contemporary art. Biedermeier's painting is represented as well as Classical Modernism. There are sculptures, glass, photographs and valuable exhibits from the ever-most sought-after period in Vienna around 1900.
Family Starmann, gallery owner Wilfried Magnet, Siegbert Metelko with music works at art Fair 2019
Kiki Kogelnig Pictures from Galerie Magnet at ArtFair 2019
Zoran Music - Painting | Joannis Avramidis - sculpture
22 May – 13 September 2019
W&K Palais Schönborn-Batthyny
Renngasse 4 | 1010 Vienna
Opening hours
Tue-Fri 11am-5pm, Thu 11am-8pm, Sat 11am-2pm
One year after the solo show at the Leopold Museum, W&K and Galerie Magnet are now presenting more than 90 works by the Slovenian painter – a sales exhibition with a museum's ambition.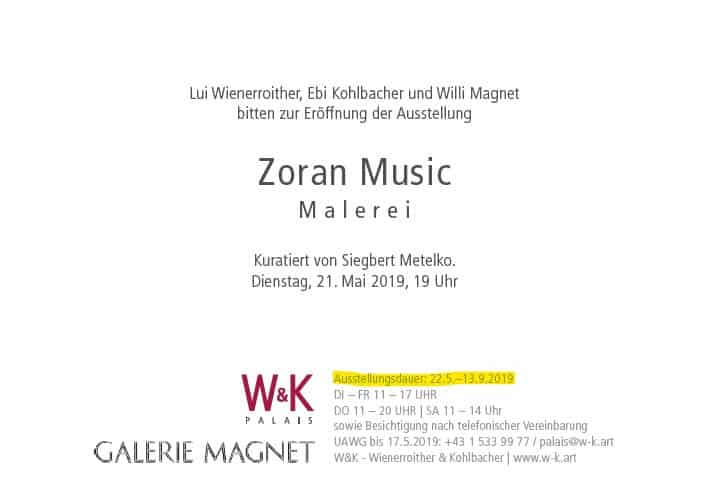 From 21 May, paintings and paper works by Zoran Music (1909 – 2005) will be presented in a show curated by Siegbert Metelko. The sales exhibition with a museum's claim shows works from the 1940s to his late work at the two Viennese locations of Galerie W&K – Wienerroither & Kohlbacher. In the baroque rooms of the Palais Schönborn-Batthyny, paintings by the exceptional artist are staged, the paper works in the W&K gallery. A total of more than 90 works were collected through the cooperation with Galerie Magnet and the information platform Zoran Music-COMARTE. The exhibition is open to the public and free of charge until 13 September 2019.
In addition to landscape representations of Dalmatia, Tuscany and Umbria, portraits and genre scenes of farmers and fishermen, as well as cityscapes from Paris and Venice, are on display. Also on display are paintings from his Cavallini series, in which the depictions of horses became a symbol of freedom and humanity, as well as works from his series We Are Not the Last.
Publication: Zoran Music – Fascination of Painting
On the occasion of this exhibition, Galerie MAGNET will present an extensive book documentation on Zoran Music with texts by Peter Handke, collector and music expert, Siegbert Metelko as well as the art curators Ivan Ristic and Natasa Ivanovic.
Languages: German, English, Italian, and Slovenian | Price: € 28,-
Galerie Magnet and Sheperd W & K Galleries are delighted to present paintings and paper works by the Slovenian artist Zoran Music (1909 – 2005).
30 works of the artist are shown, 14 of which are from our gallery collections.
The painter comes from Gorizia then a part of Austria-Hungary, today Slovenia.
Arrested by the Gestapo in Venice, he was taken to Dachau concentration camp from November 44 to May 45 as a prisoner and was freed by the Americans on 29 April 1945 with other survivors.
During this time, he drew authentically on site, of which about 40 works were preserved.
This fact gives it a very special place, even beyond Europe, especially in the United States.
In recent years, we have become more and more involved in his work and have also been able to help with the preparation of a large exhibition (12 April to 6 August 2018) at the Leopoldmuseum.
This smaller exhibition in NY is a consequence of this. Works by Zoran Music can also be found in American collections and museums.
Gallery Magnet and Shepherd W & K Galleries are pleased to present paintings and works on paper by the Slovenian artist Zoran Music (1909 – 2005).
30 Paintings of the Artist are shown, fourteen of these paintings belong to our Gallery.
The Artist comes from Görz. Back then part of Austria-Hungary, today known as Slovenia.
Arrested by the Gestapo in Venice, he got imprisoned from November 1944 till May 1945 in the Concentration Camp Dachau and freed, together with other survivors, on April 29, 1945 by the American Army.
During this time in prison, he captured his surroundings on paper. 40 of these drawings have been preserved until today. These life circumstances, give him beyond Europe, but especially in the United States of America a special place of value.
The last years we have engaged ourselves with his work and were also involved in the organization of an exhibition in the "Leopold museum" in Vienna, which took place from April 12 till August 6, 2018.
This much smaller exhibition in New York is a continuation of these efforts. Works of Zoran Mu'i' can also be found in American Collections and Museums.
13.04.2018 to 06.08.2018
Leopold Museum Vienna
Zoran Music (1909-2005) was already one of the established Slovenian painters when he was abducted to the Dachau concentration camp for several months at the end of 1944. Drawings that were made there became harrowing documents of the times.